This page will contain scanned images from our collection of rare books that focus on Tombstone, Arizona, past and present, and other Old West venues. It is our purpose to share as much of our collection as possible with those that are truly interested.
You will notice the items on display have dark lines through them or a red logo. This is from a clear Mylar transparency that we lay the document on before scanning it. We do this to stop unauthorized copying of the items.
Our goal is to promote and educate people on the magnificent history of the American West. Step back in history and enjoy these rare books and scarce images from early Tombstone and southeast Arizona!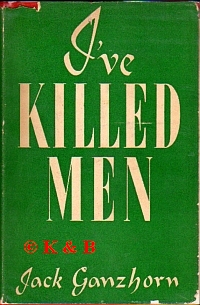 A very scarce book in the true first edition is this copy of Jack Ganzhorn's I've Killed Men. While full of errors it is none the less very difficult to find. The first edition was published in London just before World War II. It is said many copies were apparently lost or destroyed during the war, thus its scarcity. The book is noted for having some great photographs, one of special importance is that of Tom and Frank McLaury with Ed Finerty. © Kevin Mulkins 2012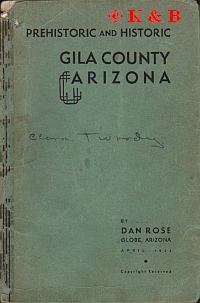 There are many Arizona books unrelated to Tombstone and its troubles that are in and of themselves classics and worthy of any Western Americana/Arizona collection. A few examples follow in this updated listing. This little pamphlet by Dan Rose titled Prehistoric and Historic Gila County Arizona was published in Globe, Arizona in 1933. It is an Arizona rarity and is more so because it was the personal copy of, and is signed on the front cover by, Clara T. Woody, resident of Globe, Arizona. Clara T.Woody is the author, along with M.L. Schwartz, of the 1977 scarce first edition hardcover book Globe, Arizona. This pamphlet is a excellent example of an "association copy", considerably enhancing its collectibility and value. © Kevin Mulkins, 2012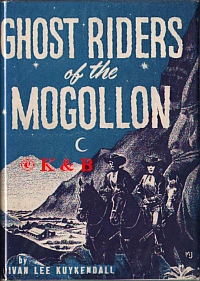 Another Arizona rarity is this 1954 first edition copy of Ghost Riders of the Mogollon by Ivan Lee Kuykendall. This book tells the story of the Graham-Tewksbury feud in Arizona. No sooner had the book been released when the publishers were sued by some of the descendants of the characters involved. Only about two hundred copies reached private hands and are now deep in private collections. © Kevin Mulkins, 2012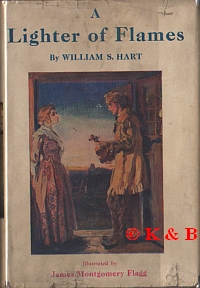 The next two photographs are of the same book. The top photo shows a unremarkable book. It is a fictional novel by William S. Hart titled A Lighter of Flames. William S. Hart was a popular silent screen actor but not a very good author! He did, however, write several books. You will recall he was an admirer of and personal friend to Wyatt & Josephine Earp. Hart, through his many influential and personal friends in Hollywood, tried to help the couple get Wyatt's life story told but with little success. This book is very special because it is a one of a kind "association copy" as can be seen in the second photograph.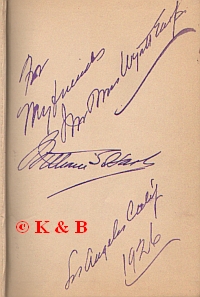 It is signed, dated, and inscribed on the front free endpaper by the author "For My friends Mr. Mrs. Wyatt Earp." This exceptional and unique association book, we are quite sure, was held in the hands of Wyatt and Josephine Earp and most likely was signed in their presence. © Kevin Mulkins, 2012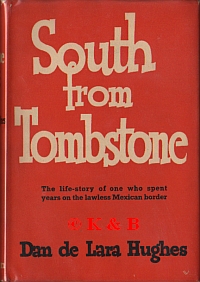 Another rare Tombstone book is this first edition copy of South from Tombstone by Dan de Lara Hughes. The true first edtion of this book was published in Great Britan in 1938. It is exceptionally rare with a dust jacket and in fine condition. Many attribute the scarcity of this book to the bombing of Britan during WWII with many copies being destroyed or damaged beyond repair. The book is not complimentary to the Earps. The author also puts himself in many historic situations! © Kevin Mulkins, 2012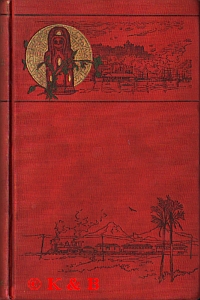 The next two photographs are of the same book. The top photo shows the cover of author William Henry Bishop's book titled Old Mexico and Her Lost Provinces. The first edition of this book was publsihed in 1883 and is one of the first if not the first book to describe Tombstone in its early days. It gives an account of the Earp/Clanton fight and of the various characters in Tombstone including John H. Behan.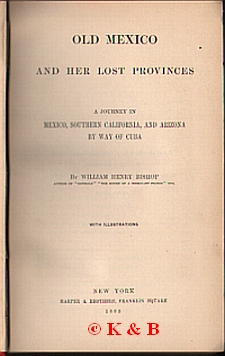 This second photograph shows the title page of the book Old Mexico and Her Lost Provinces. This first edition copy does not have the title on the front cover, only on the spine of the red cloth can you find the title. The student of Tombstone history would do well to read this book, for it is one of the earliest accounts of the mining camp. © Kevin Mulkins, 2012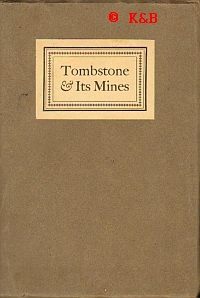 This exceedingly rare book titled Tombstone and its Mines is by legendary mining engineer William P. Blake. It contains his comprehensive report of the past and present condition of the mines of Tombstone, Cochise County, Arizona for the Development Company of America in 1902. E.B. Gage is featured on the frontis of this rarely seen book. Gage would go on to consolidate many of the Tombstone mines in 1903. ©Kevin Mulkins, 2012.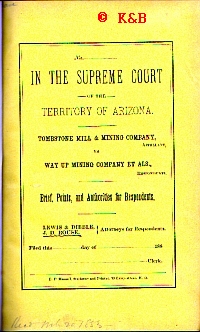 A recent acquistion, one of great provenance and rarity. In marbled boards, this small book titled Tombstone Mill & Mining Com. vs Way Up Mining Com. is the personal copy of legendary geologist William P. Blake and is one of only two known to exist. This copy has Blake's personal book plate affixed to it and his hand written index. The book contains the brief of the Way Up Mining Co. before the Supreme Court of Arizona in 1882 and it also contains two papers given by Blake titled The Geology of the Way Up Claim and another, The Geology Veins of Tombstone both signed by him on the hand written index page. ©Kevin Mulkins, 2012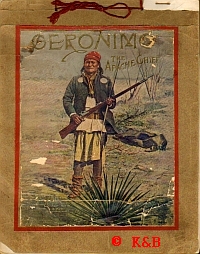 The next two books are identical in content but show two variant covers. They were produced by Mollie E. Fly, wife of the famous Tombstone photographer C.S. Fly. The truth be known, Mollie was probably as good or better at the trade than her famous husband. Mollie Fly produced these books titled Geronimo, the Apache Chief probably in 1906. They were string tied and sold at stationary stores in Tombstone. The fragile booklets contained thirty of her husbands Geronimo photographs, some crudely retouched by her. Her brief text expresses the bitterness and misconceptions that lingered in Territorial Arizona twenty years after the close of the Indian wars. They are extremely scarce and coveted by Geronimo, Apache Indian, and Tombstone collectors. ©Kevin Mulkins, 2012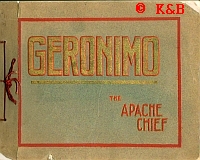 This example shows the cover most commonly found. An original, owned by the Arizona Historical Society, was reprinted in 1986 by the Tucson Adobe Corral of the Westerners. A limited edition of 500 copies were produced to commemorate the centennial of the final surrender of Geronimo and his Apache band. ©Kevin Mulkins, 2012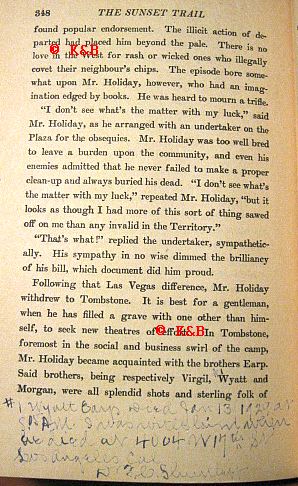 Wyatt Earp passed away on January 13, 1929. The doctor who attended to him and was with him when he died was Dr. Fred C. Shurtleff. He wrote at the bottom of page 348, in his book The Sunset Trail, regarding Earp's passing. He writes of the specific time, date and place he died and signed his name underneath. It is not known for sure if Dr. Shurtleff had this book with him and had been reading it that morning or if he added this annotation later in his library where this book resided. At any rate it is a treasure! ©Kevin Mulkins, 2012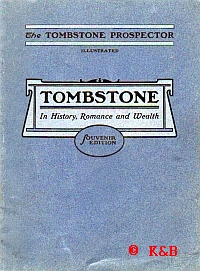 One of the great rarities from Tombstone is this fragile softcover volume. It was produced by the editor/owner of the Tombstone Prospector William "Billy" Hattich. Tombstone, In History, Romance and Wealth was produced in a souvenir illustrated edition, commemorating the arrival of the railroad to Tombstone in 1903. The Tombstone mines were being consolidated by E.B. Gage. Hopes were high that Tombstone would return to the boom days of the early mining camp. This fifty-four page volume promotes many businesses in Tombstone along with the town's early history. It was reprinted in 1981 by John D. Gilchriese via the Oklahoma Press. We do not know how many of the rare original editions were produced by the Tombstone Prospector. We believe no more than one-hundred were offered for sale in Tombstone. ©Kevin Mulkins, 2012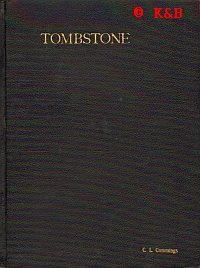 This is the extremely rare hardcover version of Tombstone, In History, Romance and Wealth. We believe less than ten of these exist. They were specially bound with personalized gilt print by William "Billy" Hattich for his friends, most of them businessmen, in Tombstone. This one belonged to businessman and banker C.L. Cummings, a Tombstone "stalwart" and good friend of Billy Hattich. ©Kevin Mulkins, 2012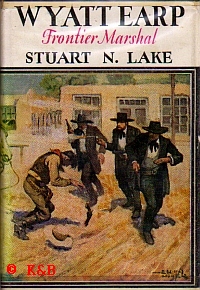 This book, more than any other, elevated Wyatt Earp to "legend" status. Wyatt Earp, Frontier Marshal by Stuart Lake is a classic. The true first edition copy has the word "belly" mispelled as "ellby" on page 54. This near fine first edition copy has its original dust jacket. Many first edition books have a similar dust jacket but if you look carefully at the dust jacket, you can tell it is from a later edition. Later edition dust jackets look the same but are short, on the first edition copy, by about an eighth of an inch. This copy is also signed by the author! ©Kevin Mulkins, 2012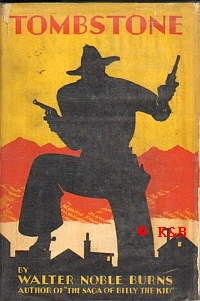 Another book that was instrumental in elevating Wyatt Earp and Tombstone to legend status was Walter Noble Burns' book titled Tombstone, An Illiad of the Southwest. A scarce book with the elusive dust jacket. This copy is signed and inscribed by the author to the daughter of pioneer German immigrant parents who met and married during Tombstone's early days. ©Kevin Mulkins, 2012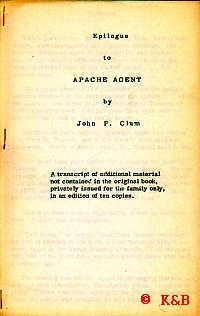 Some might call this little stapled booklet ephemeral in nature. It is, however, integral to the book Apache Agent by Woodworth Clum. It is the Epilogue and contains thirteen pages of information and additional material not contained in the original trade edition of the book. A total of ten original mimeographed copies were produced for the family only of John P. Clum. Apparently, later, Woodworth Clum produced ten finely bound copies of the book Apache Agent, these being specifically bound for the family members and friends of John P. Clum. The rare finely bound leather editions contain the Epilogue and another extra page. ©Kevin Mulkins, 2012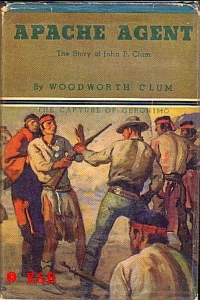 Pictured is a first trade edition of Apache Agent by Woodworth Clum, son of John P. Clum, the founder of the Tombstone Epitaph newspaper and strong supporter of Wyatt Earp and his brothers in the early days of Tombstone and beyond. This copy is signed by the author. ©Kevin Mulkins, 2012








Photographed is a very rare, fine leather bound copy of Apache Agent by Woodworth Clum. Only ten of these were produced for family members and friends by the author. All are warmly inscribed by Woodworth Clum. These ten copies are among the rarist of books regarding Tombstone and are coveted by book collectors. Ramon Adams' perfectly describes this volume in his bibliographical reference book Six-Guns and Saddle Leather on page 134, #446. All ten copies of this book have the rare Epilogue in them, a different title page, and an extra explanatory page. This copy is warmly inscribed to Florence Baker Clum, John P. Clum's wife, and includes a photograph of her and him taken in 1915. ©Kevin Mulkins, 2012.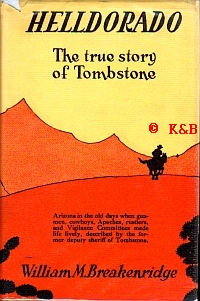 Another early Tombstone book is Helldorado authored by William M. Breakenridge. He was a deputy Cochise County Sheriff under John H. Behan. Breakenridge and his book have always been somewhat controversial. His portrayal of the Earps in Tombstone was not as positive as other books of the time. This copy, scarce in the colorful dust jacket, is signed by the author. ©Kevin Mulkins, 2012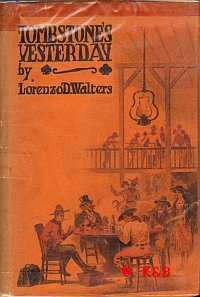 Another rare Tombstone book in the dust jacket is Lorenzo D. Walters' Tombstone's Yesterday. Considered to be not very factual and heavy with anecdotal content, it is none the less a true rarity in the elusive dust jacket. Many of these books were damaged or destroyed in a warehouse fire early in 1928. This copy is signed and inscribed to Walter Noble Burns. ©Kevin Mulkins, 2012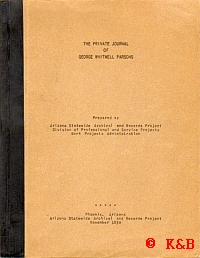 A pristine and rare original softcover copy of the 1939 WPA version of The Private Journal of George Whitwell Parsons. This volume was prepared by the Arizona Statewide Archival and Records Project Division of Professional and Service Projects, Work Projects Administration. One hundred or less of these originals were produced in 1939. This copy belonged to William B. Shillingberg and was used in his research while writing his exceptional book Tombstone, A.T. ©Kevin Mulkins, 2012
C
ontact us with any questions at:.
kevbevmulkins@msn.com
or call us at
520-603-9325
.
---
We hope you enjoyed your visit here -- please return soon.