This page will contain scanned images from our collection of early Tombstone, Arizona postal history and other Old West venues. It is our purpose to share as much of our collection as possible with those that are truly interested.
You will notice the items on display have dark lines through them or a red logo. This is from a clear Mylar transparency that we lay the document on before scanning it. We do this to stop unauthorized copying of the items.
Our goal is to promote and educate people on the magnificent history of the American West. Step back in history and enjoy these rare and scarce images from early Tombstone and southeast Arizona!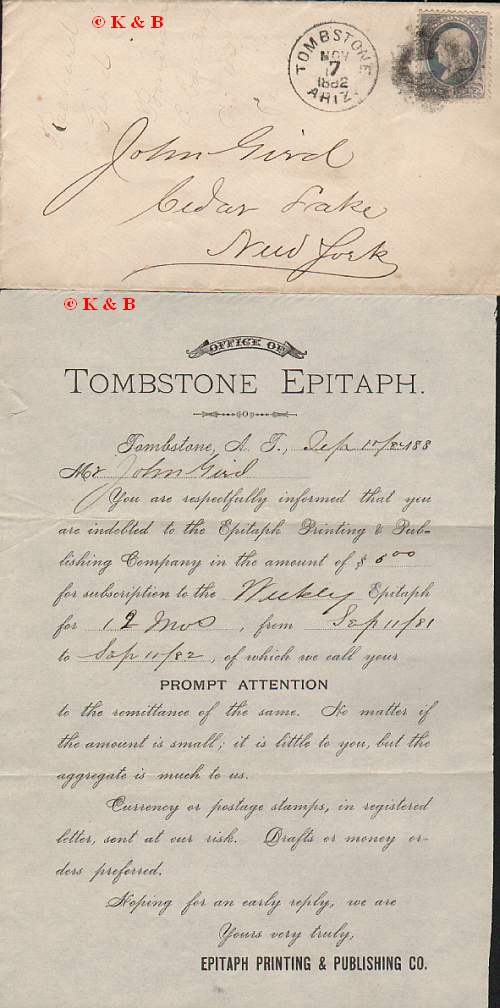 An interesting postal history item consisting of a canceled envelope from Tombstone with contents addressed to John Gird. John Gird was the father of Richard Gird. Richard Gird, more than anyone else, promoted the fabulous silver discovery in the Tombstone hills by Ed Schieffelin. The letter is a notice of payment due for a subscription to the Tombstone Epitaph newspaper from September 11, 1881 to September 11, 1882. Richard Gird at this time had left Tombstone and was in California looking into opportunities in agriculture. Faintly written on the postal cover is a notation, probably by the father John Gird. It states Richard Gird, Pomona, C Los Angeles CO. Perhaps the bill was forwarded to his son Richard or John Gird paid the bill with hopes of being reimbursed by his now very wealthy son. © Kevin Mulkins, 2012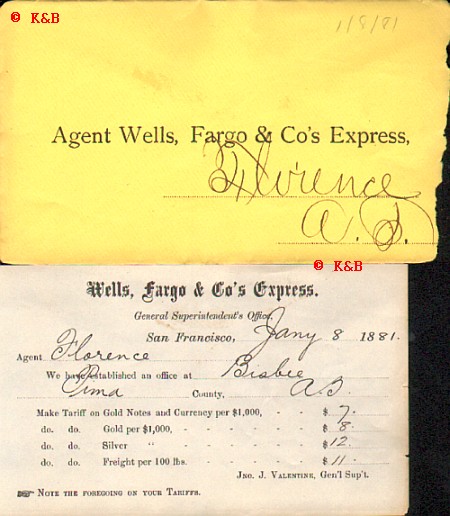 A great example of a January 8, 1881 postal cover with enclosure is pictured here. The contents of this Agent Wells, Fargo & Co's Express cover was so thin that that others that handled it assumed the envelope had no contents. It was a great find, for the enclosure reveals company notification to Agents of important tariff charges and a new office opening in Bisbee, A.T. The notification is from legendary Wells Fargo General Superintendent Jno. J. Valentine and it was received by the equally legendary and long time Florence, A.T. Wells Fargo Agent, George A. Brown. Notice there is no postage on this letter. It most likely arrived in a Wells Fargo mail pouch via stage coach! © Kevin Mulkins, 2012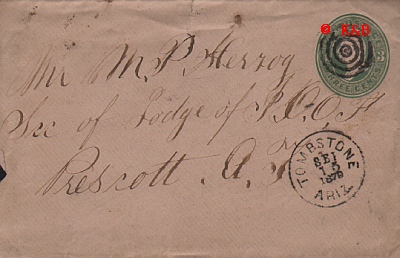 This postal cover is the second earliest known from the mining camp of Tombstone and is dated September 15, 1879. Tombstone eventually had many fraternal organizations but in 1879 there were few, if any. The International Organization of Odd Fellows officially began in Tombstone in the first six months of 1881. This postal cover attests to the fact that communication was taking place with other already organized IOOF lodges as early as 1879. © Kevin Mulkins, 2012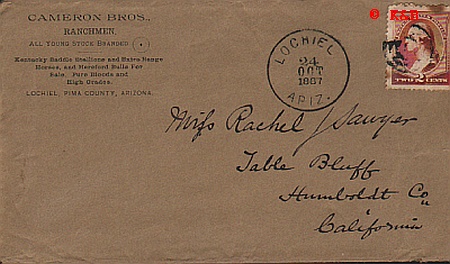 This rare postal cover, from Lochiel, Arizona, is purported to be the only one known to exist. The Cameron Brothers, Colin and Brewster, were from Pennsylvania and had powerful political and financial backing. The brothers came to Arizona during the boom period of the 1880s and established the San Rafael Cattle Company on a large Spanish land grant. Colin Cameron introduced Hereford cattle to Arizona and is said to have made the first shipment of Arizona cattle to eastern markets. The brothers and their cattle enterprise were controversial to say the least but very profitable for a time. © Kevin Mulkins, 2012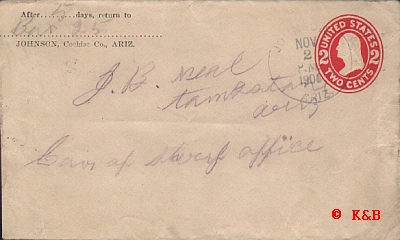 An interesting postal history item here! This letter was sent from the mining camp of Johnson to J.B. Neal who was residing in the Cochise County jail at the time. Neal was accused of murder in the shooting death of one George Mulkey near Dragoon Summit but was acquited in December of 1908 on grounds of self defense. You may also recall it was J.B. Neal who witnessed Frank Leslie shoot and kill his (Leslie's) wife Mollie Williams at their ranch in 1889. Neal himself was shot by Leslie and left for dead. J.B. Neal survived and recovered and "Buckskin" Frank Leslie was sent to the Yuma Territorial Prison. This postal cover then was handled by J.B. Neal in the Cochise County jail! © Kevin Mulkins, 2012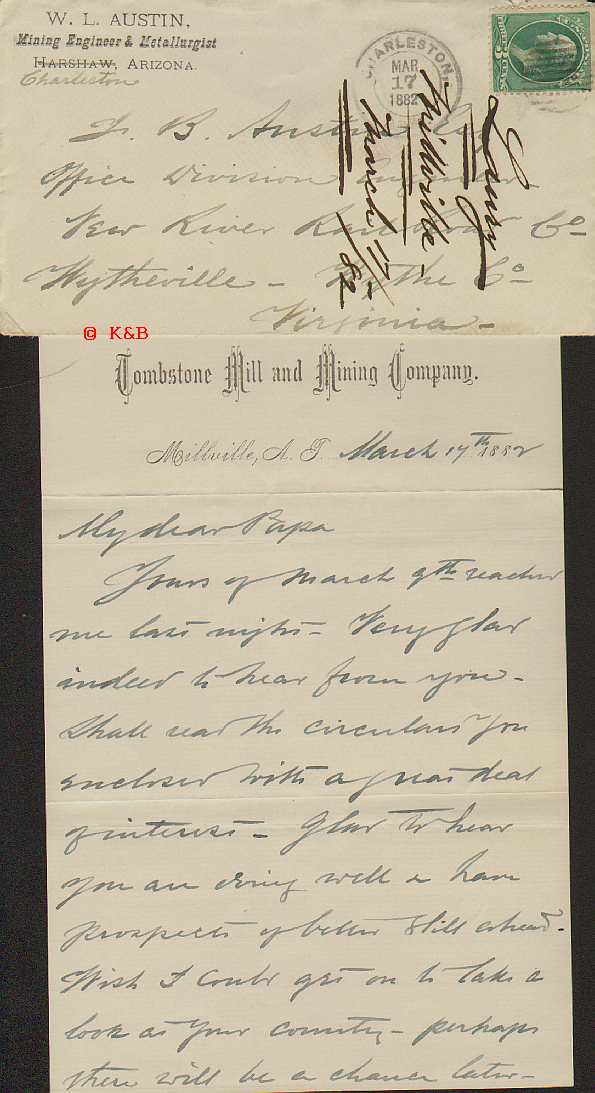 Pictured is a scarce postal cover and letter both dated March 17th, 1882. The letter was written in Millville, A.T., site of the Tombstone Mill & Mining Co. and across the San Pedro River from Charleston. The letter was mailed at Charleston since that was the only post office in the area. W.L. (Lawrence) Austin, a mining engineer, wrote the letter. Note the date on the letter and postal cancellation - it was St. Patrick's Day. The following day, in the evening hours, Morgan Earp would be assassinated at the Campbell & Hatch's saloon in Tombstone.©Kevin Mulkins, 2012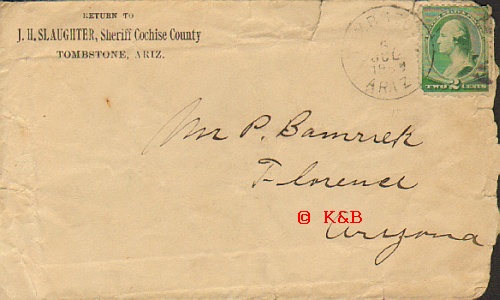 A very scarce 1886 postal cover from the office of Cochise County Sheriff J.H. Slaughter ©Kevin Mulkins, 2012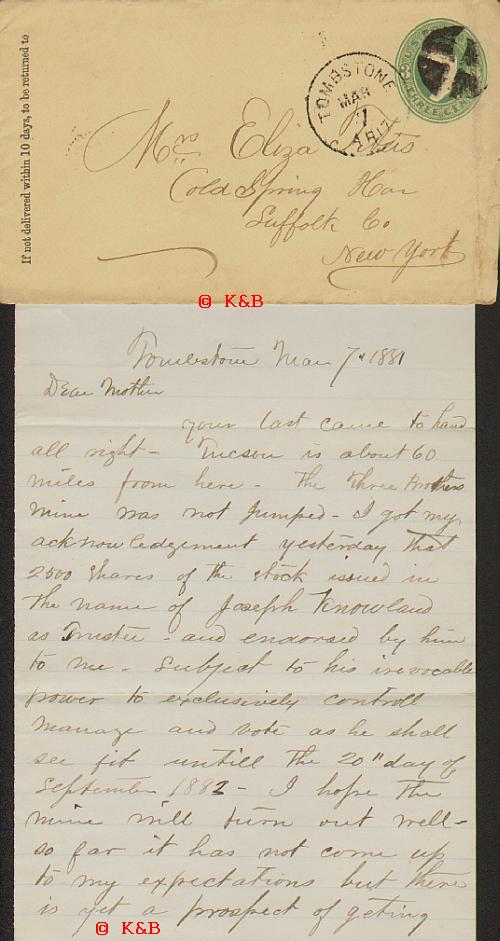 An interesting 1881 postal cover with a letter from Benjamin Titus to his mother who was living in New York. Benjamin Titus was a teller in the Safford & Hudson Bank. Evidently, his family was wealthy because his letter states he is attempting to secure a stock position in one of the better mines in Tombstone. He laments, however, that he has so far been unsuccessful but has high hopes for a new mine that was very promising. He refers to the Bob Ingersoll Mine which did in fact become a very productive mine in Tombstone. Letters like this are valuable time capsules of everyday Tombstone life. Many times they reveal what living in the early days of the mining camp was really like! ©Kevin Mulkins, 2012.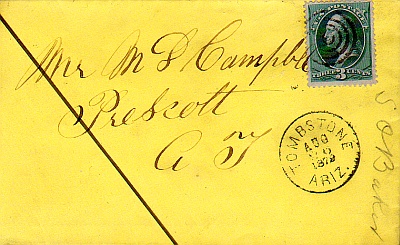 Postal history is a often neglected collecting area. Many wonderful and historic items can be found in this philatelic area of collecting. Some of my best acquisitions have come from postal covers with contents. Many times the letters or contents inside the postal cover are eye opening, first person accounts of life in Tombstone. This postal cover is the earliest one known from Tombstone. It is dated August 26, 1879. Although a post office was established in Tombstone, which was part of Pima County, on December 2, 1878, I have yet to find or see a cover dated from Tombstone in 1878. Richard Gird was the first postmaster of Tombstone. ©Kevin Mulkins, 2012.
C
ontact us with any questions at:
kevbevmulkins@msn.com
or call us at
520-603-9325
.
---
We hope you enjoyed your visit here -- please return soon.