This page will contain scanned photographs from our collection of early Tombstone, Arizona, and other Old West venues. It is our purpose to share as much of our collection as possible with those that are truly interested.
You will notice the items on display have dark lines through them or a red logo. This is from a clear Mylar transparency that we lay the document on before scanning it. We do this to stop unauthorized copying of the items.
Our goal is to promote and educate people on the magnificent history of the American West. Step back in history and enjoy these rare and scarce images from early Tombstone and southeast Arizona!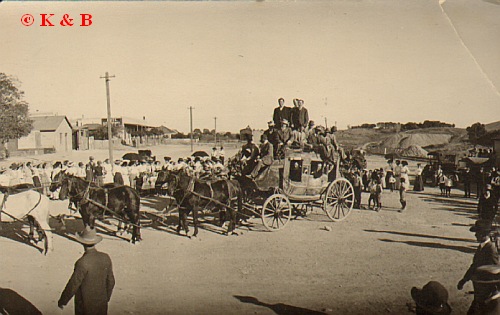 This rare photograph shows the old Modoc Stage on its last trip to Tombstone. The photo was taken around March 27, 1903 when the El Paso & Southwestern R.R. Co. passenger train finally arrived in Tombstone. Comparing this smaller photograph to the, most common and recognized, large panoramic photo we see the old fire station in the back ground. This tells us this is a prior exposure to the most common panoramic one we've seen and is very much a rarity! The postcard style photograph has the hand written name Alice W. Lutley on the reverse, quick research reveals that she was the wife of William Lutley a Cochise County stalwart who came to Tombstone in January of 1881. When comparing the two photos next to each other, it is obvious this photograph was not the one chosen for the panoramic view that is most common. © Kevin Mulkins, 2013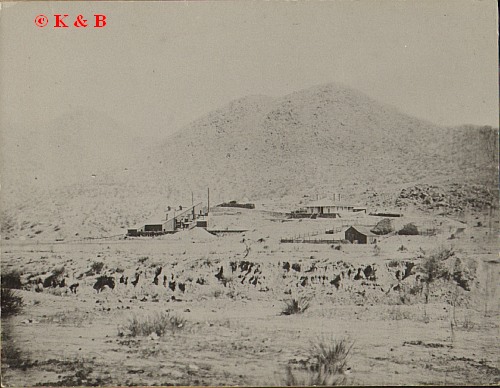 Your looking at a photograph of the Gird Mill adjacent to the home of Richard and Nellie Gird. The mill was located on the east bank of the San Pedro River and across the river from the tough town of Charleston. The Gird's adobe house was quite elaborate, many social events were held there. The mill operated twenty-four hours a day and pretty much seven days a week. The constant hammering of the ten stamp mill must have been deafening but, as they say, it was the sound of money. The mill, built by Mormons from St. David, began operation in May of 1879. Gird severed connections with the mining interest in late spring of 1882 for $800,000.00 and removed himself and wife to California where he settled into farming and raising cattle around Pomona. Tombstone and it's wealthy silver mines were good to Richard Gird! © Kevin Mulkins, 2013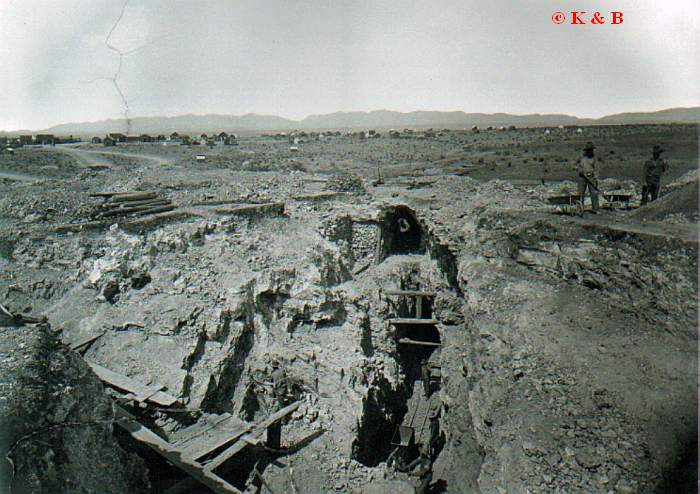 A remarkable photograph of early Tombstone, A.T. mining. The village of Tombstone can be seen in the distance. This print, from the original glass plate, is very detailed for the time period. It is not known who the photographer was, we speculate it may have been either C.S. Fly or Tucson photographer Henry Buehman. © Kevin Mulkins, 2012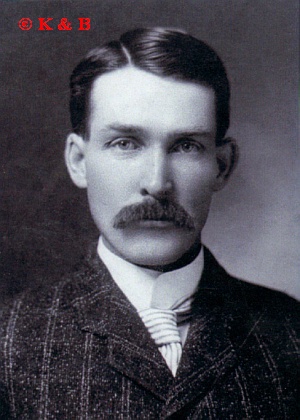 Pictured is a excellent likeness of Baxter Warren Earp. Sometimes called a trouble maker, and probably the most unheralded of the Earp brothers, Warren seemed to get in trouble often. It has always puzzeled me why Warren Earp stayed in Arizona (Willcox) after all the trouble the Earps had in Tombstone. He was shot to death at the Headquarter Saloon in Willcox in July of 1900 and is buried in the Willcox Cemetary. © Kevin Mulkins, 2012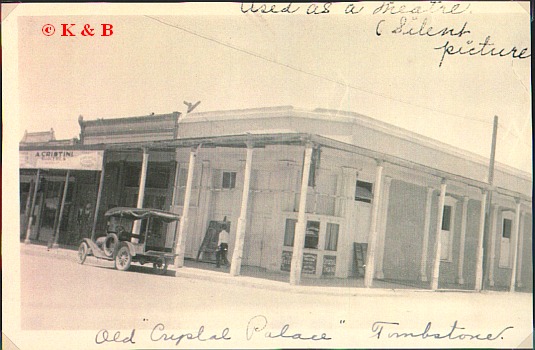 The following four photographs are from a family in Bisbee. I had always heard and read what we now call the Crystal Palace Saloon in Tombstone was, at one time, a silent movie theater. During the state imposed prohibition of alcohol in Arizona many saloons were converted for other uses. We think this remarkable 1923 photo verifys that statement. © Kevin Mulkins, 2012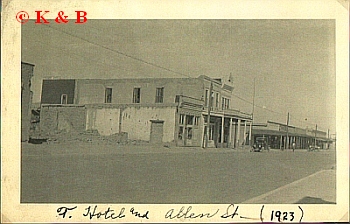 Pictured is a 1923 photograph of Allen Street looking west from approximately across the street from the Bird Cage Theater. An interesting photo showing a not so exciting view of Allen Street but showing the Tourist Hotel at the southeast corner of Fifth and Allen Streets. © Kevin Mulkins, 2012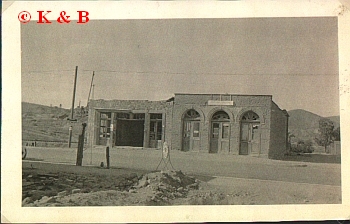 This rare photograph shows the Bird Cage Theater and the shell of the adjoining building to its east. Notice the miserably decrepit condition of both buildings. This photo was taken in 1923 six years before the first Helldorado celebration and shows just how deteriorated some of today's landmarks in Tombstone had become. © Kevin Mulkins, 2012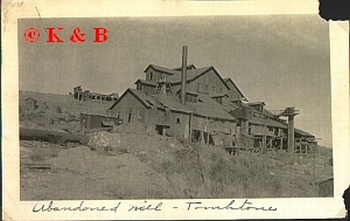 An abandoned mill in Tombstone as this photograph is captioned. This photograph originates from a Bisbee family and is believed to have been taken in 1923. Which mill and its exact location are, unfortunately, unknown. © Kevin Mulkins, 2012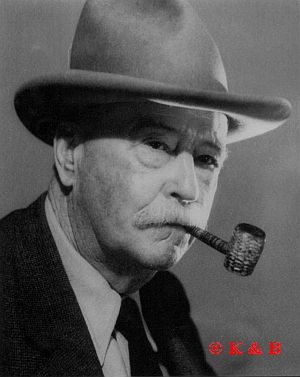 The old lawman, Jefferson Davis Milton, posed for this photograph probably in Tucson. Milton's story is legendary and is told very well in J. Evetts Haley's book Jeff Milton, A Good Man With a Gun. Jeff Milton tangled with many of the frontier's worst bad men during his career. Interestingly, he described Wyatt Earp as a "scrub." © Kevin Mulkins, 2012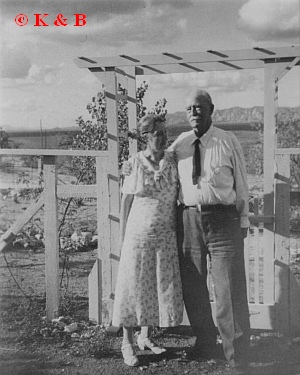 Pictured is a photograph, from the family, showing Jeff and Mildred Taitt Milton standing, notice the Dragoon Mountains in the back ground, under the rose arbor in their yard. Their home was on Third Street across from St. Paul's Episcopal Church in Tombstone. They lived in Tombstone from approximately 1931 to 1945 and then moved to Tucson where Jeff passed away in 1947. Admired by many, much has been written about Jeff Milton...as a lawman, Texas Ranger, and Border Agent he was simply "the real deal." © Kevin Mulkins, 2012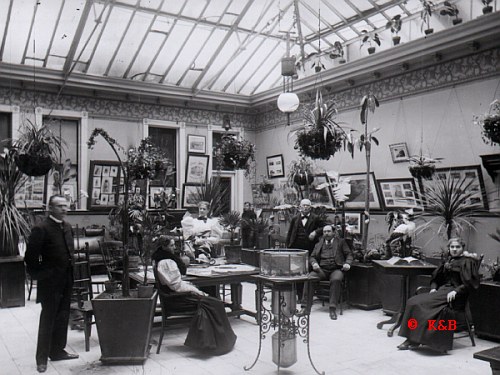 A remarkable photograph taken from the original glass plate negative. This photograph shows Albert C. and his father, Carl Gustav Bilicke, standing in the glass roof patio of their Hollenbeck Hotel in Los Angeles in 1895. A.C. Bilicke stands to the left of the photo and Gus Bilicke is the silver haired gentlemen standing on the right. These prominent businessmen were in Tombstone during its boom years and contributed greatly to the mining camp's progress! They were supporters and friends of Wyatt Earp and his brothers. Their Cosmopolitan Hotel on Allen Street became the Earp headquarters after the December 28, 1881 assasination attempt on the life of Virgil Earp. A.C. Bilicke lost his life on the ill fated Lusitania when it was torpedoed by a German U-boat in 1916. © Kevin Mulkins, 2012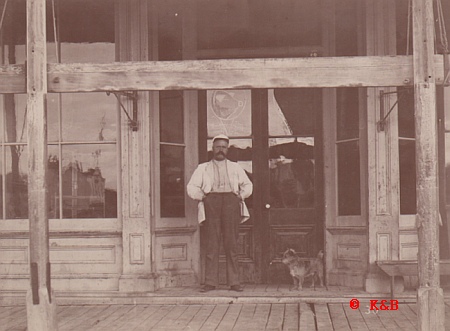 One of my favorite "Tombstone Stalwarts" is C.L. Cummings. He is pictured here in front of his butcher shop on Fremont Street, across the street from Schieffelin Hall in 1886. He came to Tombstone in 1880 and worked for mining interests before owning several businesses in Tombstone during his long life time. He was president of the First National Bank of Tombstone for a number of years and is credited with keeping that institution solvent during the depression of 1907. C.L. Cummings died in Tombstone in 1930 and is buried in the Tombstone Cemetery. © Kevin Mulkins, 2012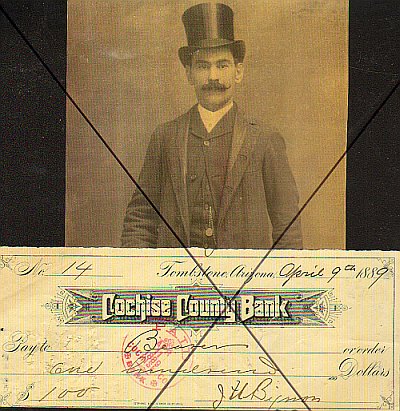 Joe Bignon was a colorful Tombstone theater owner. He arrived in the camp in 1879 and opened the Theater Comique. Later, he acquired the old Bird Cage Theater and renamed it the Elite, opening it in 1886. When gold was struck at Pearce, A.T. in 1895, he and his wife Minnie quickly moved everything from Tombstone to Pearce. He died in Pearce in 1925 at the age of 85 years. His signature is at the bottom of this 1889 check. Joe Bignon was a true Tombstone stalwart! ©Kevin Mulkins, 2012.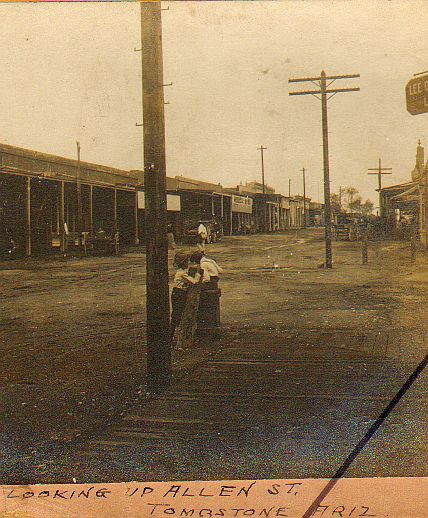 A rare street scene photograph of Allen Street in 1903 - Tombstone. E.B. Gage was consolidating the Tombstone mines. The railroad would finally arrive in Tombstone in that year. Hopes were high that Tombstone would again experience the "boom days" that had long since past. This photograph shows an Allen Street with no automobiles; only wagons and two children who were oblivious to the camera man. ©Kevin Mulkins, 2012.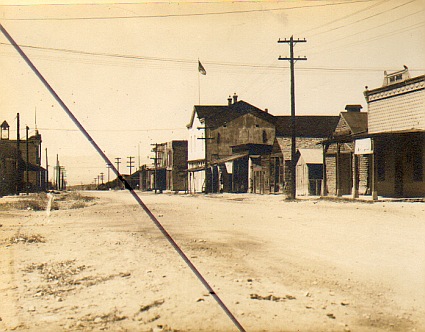 This photo shows a deserted Fremont Street in Tombstone looking west. It was taken on March 17, 1931. Tombstone was at one of its low points. Visible on the far right is the San Jose House and Schieffelin Hall with the flag pole, and west of that we see the Gird Block and the original Tombstone Epitaph building. On the left we see the Town Hall building. Most prominent is the configuration of Fremont Street, much like it was when the Earps and Holliday walked down to the vacant lot between Fly's and the Harwood House on October 26, 1881. Fremont Street was changed forever beginning in 1959 when it was raised and made into a four lane highway. ©Kevin Mulkins, 2012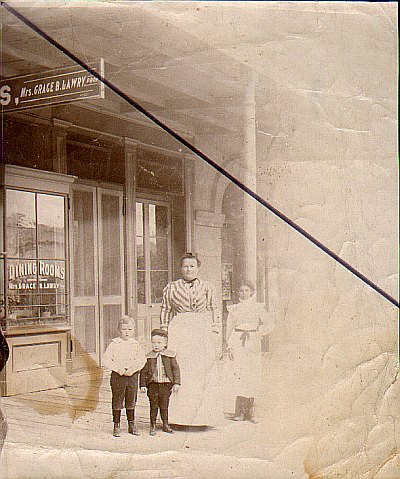 An interesting 1900 photograph of a business on the south side of Allen Street between 4th and 5th Streets in Tombstone (notice the arch on the right side of the photo - does it look familiar?) Pictured are Mrs. Grace B. Lawry, Proprietor of the dining hall and her young employee, or perhaps the baby sitter of the two little boys. The boys are Clark, on the left, and Harold Tarbell. Their mother was Nellie Clark, daughter of Charles Spencer Clark and their father was Tom Tarbell, son of C.B. Tarbell who was a early mining camp resident. C.S. Clark, an attorney, moved to Tombstone in 1879 from Texas. He was a Civil War veteran and a Colonel in the 9th Kansas Volunteer Cavalry, skirmishing with and pursuing Quantrell and his raiders many times. He was appointed Tombstone Postmaster in 1886 by President Grover Cleveland and served in that position until 1890. He was active in the local Masonic Lodge and Territorial politics, and in 1891, served as Speaker of the Sixteenth Legislative Assembly of Arizona. He passed away in 1903 and is buried next to his grandson, Clark, in the Tombstone Cemetery. Harold Tarbell passed away in 1971. C.S. Clark himself is worthy of a book or article, as were many of the unheralded citizens of early Tombstone. ©Kevin Mulkins, 2012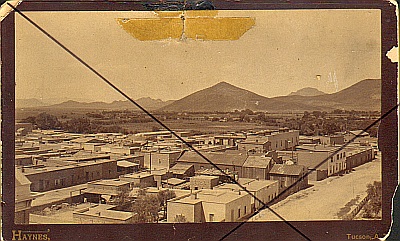 A wonderful, rare photograph of Tucson, A.T., by Haynes taken in 1884. This photograph has so much content! The mountain in the approximate center is today called "A" Mountain and below it, under magnification, one can see the ancient Spanish Convento ruins. The ruins were located close to the Santa Cruz River which was flowing at the time. This photo shows Tucson much like it was when Wyatt Earp and company in 1882, brought brother Virgil, and his wife, Allie, to Tucson and made sure they were secure and on their way to Colton, California, via the Southern Pacific Railroad. This was after brother Morgan was assassinated in Tombstone on March 18, 1882. While in Tucson, Wyatt Earp killed Frank Stilwell near the Tucson Railroad Depot. This began the legendary "Vendetta Ride" of Wyatt Earp. ©Kevin Mulkins, 2012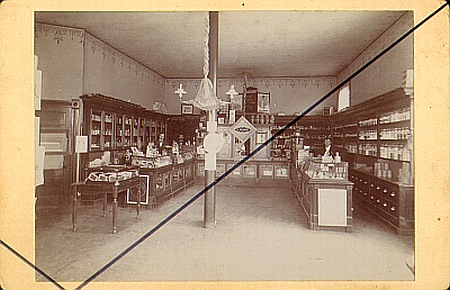 This is a photograph from around 1900 looking directly into Tom Tarbell's well stocked drug store on Allen St. in Tombstone. The men in the photograph are identified on the photo's reverse. Tom Tarbell is on the left, a unidentified clerk is behind him, and George Swain is on the right. ©Kevin Mulkins, 2012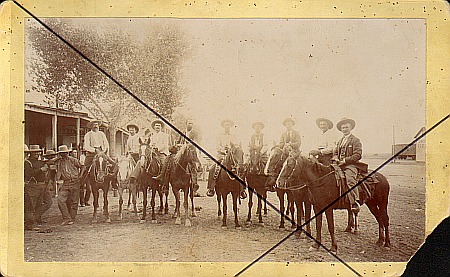 What an interesting and intriguing photograph! This photo, of nine men on horseback with bystanders, was taken in the 1890s in front of the Schwertner Saloon in Willcox, A.T. Unfortunately, the riders are unidentified which leads to great speculation by all who view this photograph. I've been authoritatively told by a Willcox historian that most of these men were the "bad boys" of Willcox. I've also been told, the man on the right with the cigar in his mouth is Matt Burts. This is all fun stuff but pure speculation until these men can be identified positively. If I may speculate a little, given the names of the outlaws and "nere do wells" that were in and around Willcox at the time, such as Bill Downing, Burt Alvord, Matt Burts, and Billy Stiles to name a few, it is possible one of them or all of them may be in this photograph. Perhaps, there is an expert out there that can identify some of these men. It would be greatly appreciated. To complete the story, I bought this photo from a man who purchased it from a junk selling vendor at a swap meet in Tucson. You just never know! ©Kevin Mulkins, 2012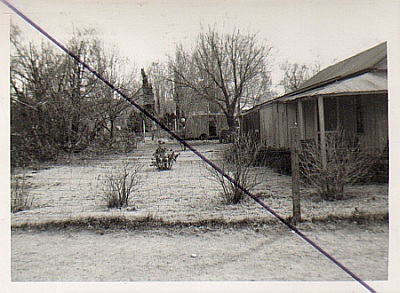 The next two photographs are relatively new; both taken in 1959. They do show, however, something that most of us have never seen. These photos were taken just before the State of Arizona began the construction, some say destruction, of Fremont Street in Tombstone. This photograph, taken on March 24, 1959 by John D. Gilchriese, is looking straight into the lot where the October 26, 1881 street fight ocurred. In this photo you can see the dirt walkway in front of the famous lot. ©Kevin Mulkins, 2012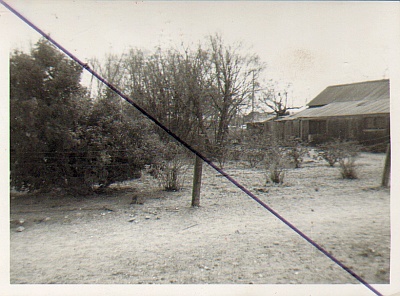 This photograph, again was taken by John D. Gilchriese on October 24, 1959. It is captioned on the back by him as follows; "shows the vacant lot and site of the fight before the highway ruined it." He was right about that! Notice in this photo the dirt walkway and the slope, probably for rain water drainage, down to the lower grade of the original Fremont St. This slope and the trench that had been dug for water pipe installation came into play for Morgan Earp during the October 26, 1881 street fight. These are newer photographs but they do provide a perspective many of us have never seen before. ©Kevin Mulkins, 2012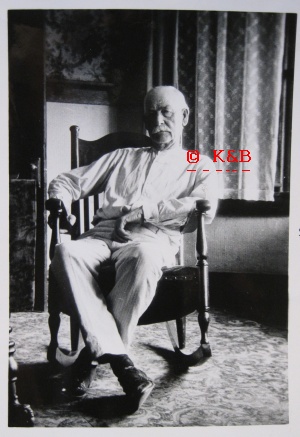 A classic pose by Wyatt Earp. One wonders what he is thinking? This is an original photograph, taken in March of 1957 by John D. Gilchriese. The original was owned by Earp confidant John H. Flood Jr. Mr. Flood allowed the original to be photographed by JDG. ©Kevin Mulkins, 2012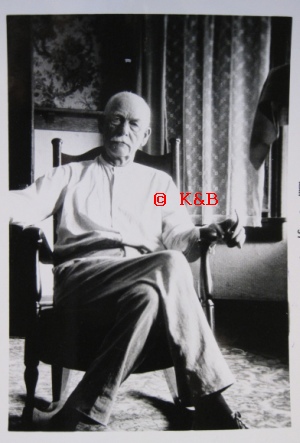 A little different pose of Wyatt Earp than the one above, notice the pipe in his hand. This is another original photograph taken by John D. Gilchreise of the original in the possession of John H. Flood Jr. Flood was Wyatt Earp's loyal friend and confidant. Shortly before his death on March 29, 1958, Flood gave his Earp possessions to JDG. ©Kevin Mulkins, 2012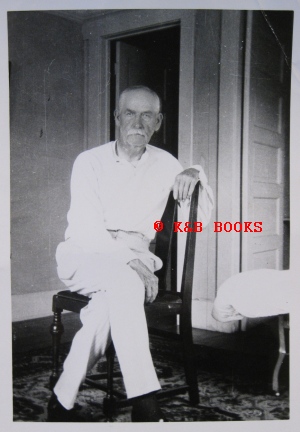 This pose of Wyatt Earp has been seen many times in books and other publications. It comes from the same origin and has the same provenance as the above photographs of him. ©Kevin Mulkins, 2012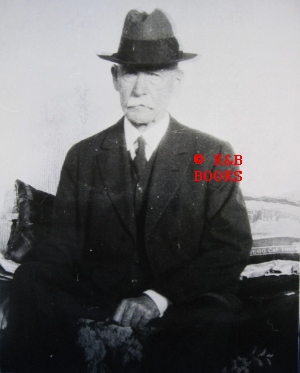 An interesting photograph with the same origin and provenance as the above photos. Unfortunately, this photo is "grainy" and appears to be not the same quality as the others. I believe it shows Wyatt Earp in his decline - notice the swelled hands and sunken eyes. I think this photograph of him was taken in late 1928. ©Kevin Mulkins, 2012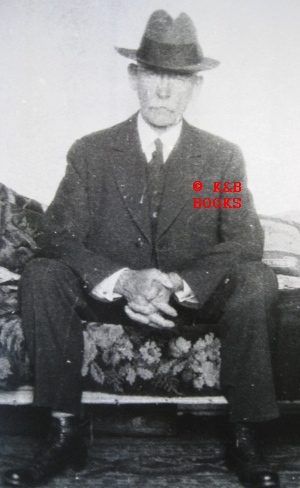 Another photograph of Wyatt Earp in his decline with the same origin and provenance. Also taken, we believe, in late 1928. ©Kevin Mulkins, 2012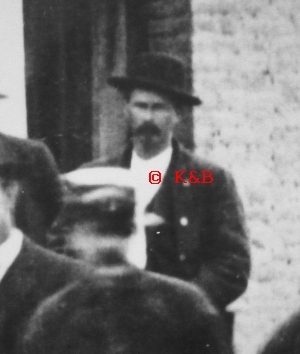 We believe this is Wyatt Earp taken at the dedication of the Tombstone Engine Co. No.1 on Toughnut St. in the summer of 1881. The Tombstone Engine Co. No.1 was founded in 1880 with Wyatt being its first secretary. This is from a photograph taken of the orignal by John D. Gilchriese. We purchased the photo and enlarged this portion of it to reveal Mr. Earp. Wish I knew where the original was! ©Kevin Mulkins, 2012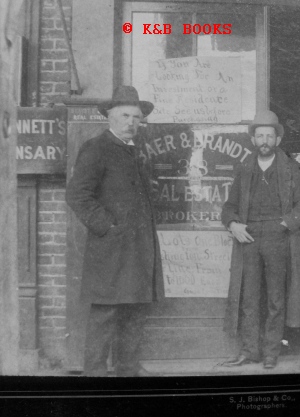 An intriguing photograph, unfortunately without provenance. I was told very emphatically by John D. Gilchriese the man on the left in this photo is Wyatt Earp in California during his "drinking days." We have cropped this photograph, there are other men in it. One of them was a well known real estate man in Los Angeles. ©Kevin Mulkins, 2012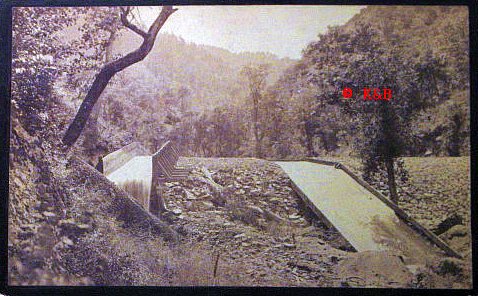 The next two original cabinet card photographs, featuring the large Tombstone/Huachuca Mountains Reservoir, were taken by C.S. Fly probably in 1881 or 1882. They are of particular importance today since currently (2012) the Town of Tombstone is trying to repair its long time water source in the Huachuca Mountains but is meeting resistance from the Forest Service. These photos show the source of Tombstone's water in the 1880s. The photograph is captioned on the reverse "the flume 1885, Huachuca Mountains, Arizona." ©Kevin Mulkins, 2012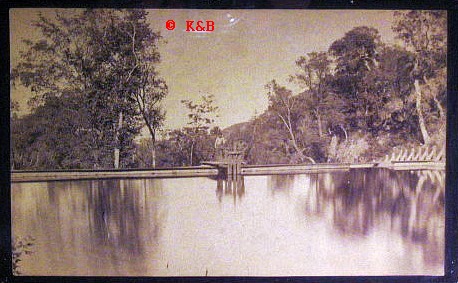 This second photograph of the Tombstone/Huachuca Mountains Reservoir is captioned on the reverse "Mr. Keimbell, keeper of the reservoir. Huachuca Mountains, Arizona 1885." The million gallon reservoir served Tombstone and was twenty-one miles away from the town. These two photos appeared, along with other photos and sketches of Tombstone, in The Daily Graphic of New York on Friday, June 1, 1883. ©Kevin Mulkins, 2012
C
ontact us with any questions at:
kevbevmulkins@msn.com
or call us at
520-603-9325
.
We hope you enjoyed your visit here -- please return soon.