This page will contain scanned images from our collection of checks, drafts, and stock certificates from early Tombstone, Arizona, and other Old West venues. It is our purpose to share as much of our collection as possible with those that are truly interested.
You will notice the items on display have dark lines through them or a red logo. This is from a clear Mylar transparency that we lay the document on before scanning it. We do this to stop unauthorized copying of the items.
Our goal is to promote and educate people on the magnificent history of the American West. Step back in history and enjoy these rare and scarce images from early Tombstone and southeast Arizona!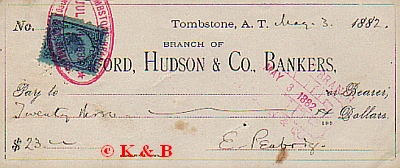 The Rev. Endicott Peabody was in Tombstone less than six months during that time he made many friends. He oversaw the building of the Episcopal Church in Tombstone and won many followers. He was described by George W. Parsons as "quite an athlete and of magnificent build, weighing nearly 200 lbs., muscles hard as iron. Likes his claret and a good cigar." © Kevin Mulkins, 2012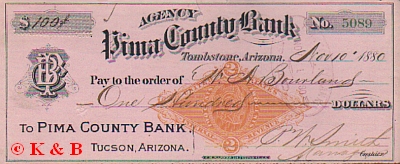 William Addis Bourland arrived in Tombstone early in 1880. He was a retailer of cigars, tobacco, pipes, stationery, confectionery and fancy goods, his shop being located on Fifth between Allen and Fremont. Bourland's wife Addie had a dress making shop at 523 Fremont Street. On October 26, 1881 she witnessed the street fight between the Earps and Doc Holliday and the McLaury brothers and Billy Clanton. Her testimony is part of the record during the Spicer Hearing. © Kevin Mulkins, 2012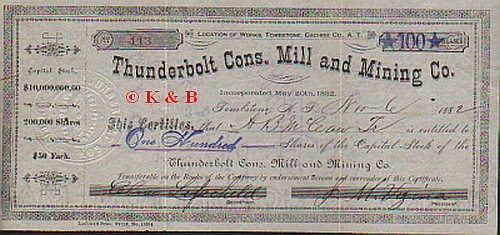 Pictured is a rare Tombstone stock certificant from 1882. Notice the location of the works were in "Cachise" County, A.T. One hundred shares were sold to a man in Canada. The certificate is signed by the president of the company, J.M. Vizina one of the more prominent and succesful businessmen in Tombstone at the time. © Kevin Mulkins, 2012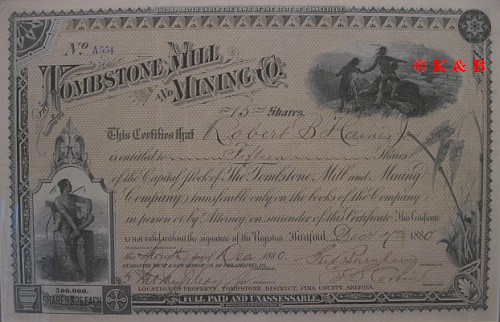 This scarce stock certificate is probably the most recognized from early Tombstone. Ed and Al Schieffelin sold their many mining interests in Tombstone to the Tombstone Mill & Mining Co. of Hartford, Connecticut. The holdings of the TM & M Co. were vast, including water rights along the San Pedro River all the way to the Sonora, Mexico boundary line. With this sale the Schieffelin's ended their Tombstone association. © Kevin Mulkins, 2012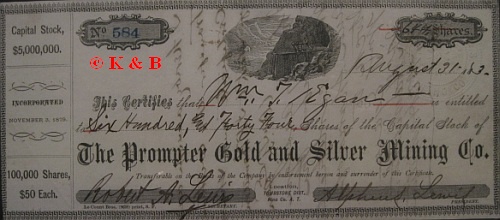 Alpheus Lewis at fifty-one years old was the seventh man to arrive in the new Tombstone District on June 6, 1878. His son Robert A. Lewis followed. Alpheus, who was given the honorary title of "Colonel" purchased the old Fritz Hoffman Springs on the San Pedro River in January of 1879. It was recorded in the name of Robert A. Lewis. Thereafter, this water source was called "Lewis Springs" in honor of the father. Alpheus located a number of valuable mining claims in the Tombstone District, among them the Prompter. He also bonded the Contention Mine. Son Robert A., at twenty years old, was in charge of the Prompter Mine during Tombstone's early days. Both men have signed this rare stock certificate. © Kevin Mulkins, 2012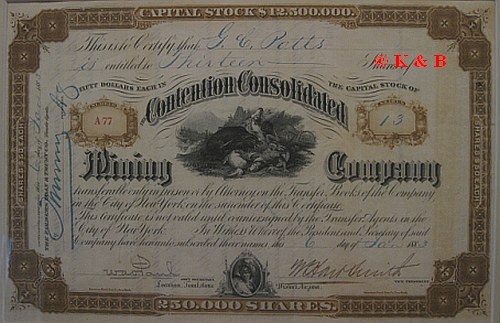 The reorganization of the original Western Mining Company resulted in this very important Contention Consolidated Mining Company certificate. This property was the first to incorporate in Tombstone and part of the original discovery by Ed Schieffelin. The mine was one of the best paying in Tombstone paying more than $562,000.00 in dividends through 1882. Through 1885 the company produced about $6 million in silver and gold. The President, W. Hart Smith, was an important eastern financier. © Kevin Mulkins, 2012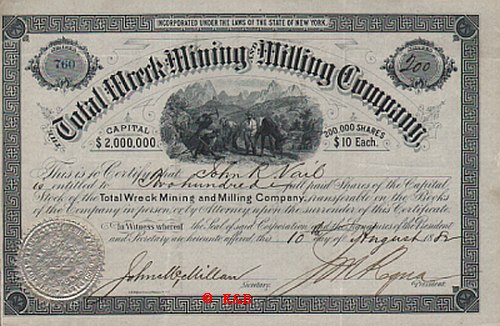 This scarce mining stock certificate is from the Total Wreck Mining & Milling Co. and dated August 10, 1882. The silver producing mine was located on the Empire Ranch, in Pima County, A.T., and owned by Walter Vail. The highly productive mine generated over $500,000. in profits to the Vails and greatly contributed to the success of the ranch and the fortunes of the Vail family. © Kevin Mulkins, 2012

A rare check from the Contention Mill and Mining Co., one of early Tombstone's more productive mining companies. A substantial amount of money ($2737.50) was paid for 365 cords of wood. A letter, not pictured, dated on the same day from Contention accompanies this check. In the letter, the crazed from alcohol writer, confesses that the check is a forgery but he successfully negotiated it and spent the money in the saloons and gambling halls of Tombstone. He also writes that he is on his way out of town with only $100.00 left and begs the authorities to have mercy on his family. Such were the happenings in the boom town of Tombstone in its heyday. ©Kevin Mulkins, 2012.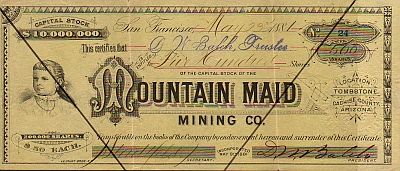 This rare Mountain Maid Mining Co. stock certificate relates to several historical people who were in Tombstone in its early days. It was claimed by Carl Gustav and A.C. Bilicke, owners of the Cosmopolitan Hotel on Allen Street, and surveyed by H.B. Maxson on November 24 and 25, 1880. The First North Extension of the Mountain Maid was claimed by V.W. Earp, W.S. Earp, J.C. Earp and R.J. Winders. It was surveyed on November, 13, 14, and 15, 1880. ©Kevin Mulkins, 2012.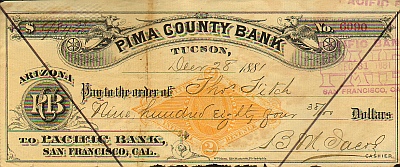 This Pima County Bank check or draft, as some collectors call it, was written in Tucson on December 28, 1881. It will be remembered that was the day Virgil Earp was shot-gunned down as he crossed Fifth and Allen Streets in Tombstone. This cowardly attack left him crippled for life, rendering his left arm useless. The check is made out to Thos. Fitch, known as the sliver-tongued orator who defended Wyatt Earp at the inquest after the shoot-out near the OK Corral on Fremont St. on October 26, 1881 in Tombstone. It is signed on the reverse by Thos. Fitch. ©Kevin Mulkins, 2012.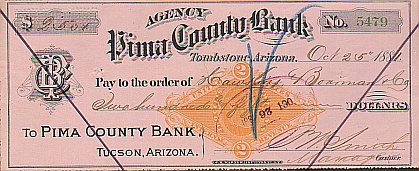 The significance of this check sometimes isn't apparent. It is made out to the Hawkins Boarman & Co. and written on the Agency Pima County Bank in Tombstone. Here's where it gets significant, the check is dated Oct 25, 1881 one day before the famous street fight on Fremont street near the OK Corral between the Earp brothers and Doc Holliday and the McLaury brothers and Billy Clanton. Look closely at the ink stamped date on this check by the Agency Pima County Bank. You'll see it was stamped on that fateful day in Tombstone, October 26, 1881. Checks, drafts or documents from Tombstone with this date on them are significantly rare! ©Kevin Mulkins, 2012.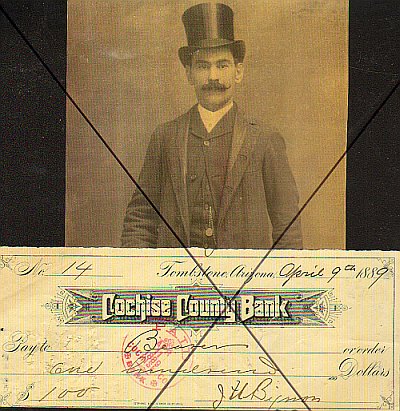 Joe Bignon was a colorful Tombstone theater owner. He arrived in the camp in 1879 and opened the Theater Comique. Later, he acquired the old Bird Cage Theater and renamed it the Elite, opening it in 1886. When gold was struck at Pearce, A.T. in 1895, he and his wife Minnie quickly moved everything from Tombstone to Pearce. He died in Pearce in 1925 at the age of 85 years. His signature is at the bottom of this 1889 check. Joe Bignon was a true Tombstone stalwart! ©Kevin Mulkins, 2012.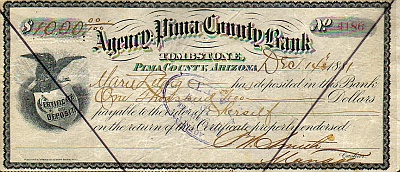 Marie L'etang, known as Blonde Marie, endorsed this Certificate of Deposit on the reverse side. She was the first French madam sent to Tombstone. She was lovely, a very good business women, and strictly a madam who did not indulge in the business under any circumstances. Her house of business was on Sixth St. at the end of Allen St. Her establishment was run with pride and quiet dignity. Every girl in her employ was French and very attractive. There was no bar, no drunks, and no fighting as she only entertained the high class gentlemen of Tombstone. It is said Blonde Marie returned to France a very wealthy woman and lived comfortably the rest of her life. Certificates of Deposit are interesting and can provide the collector with many surprises. The certificates were transferable and sometimes there are several different signatures on the reverse by the people it was transfered to. Many times these people are quite famous Tombstone personalities! ©Kevin Mulkins, 2012.
C
ontact us with any questions at:
kevbevmulkins@msn.com
or call us at
520-603-9325
.
---
We hope you enjoyed your visit here -- please return soon.