This page will contain scanned images from our collection of business cards and paper tokens from early Tombstone, Arizona, and other Old West venues. It is our purpose to share as much of our collection as possible with those that are truly interested.
You will notice the items on display have dark lines through them or a red logo. This is from a clear Mylar transparency that we lay the document on before scanning it. We do this to stop unauthorized copying of the items.
Our goal is to promote and educate people on the magnificent history of the American West. Step back in history and enjoy these rare and scarce images from early Tombstone and southeast Arizona.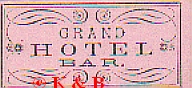 This paper token was given away to "loyal" customers who frequented the bar located in the Grand Hotel on Allen Street. The paper token was probably presented to the bar tender for a complimentary drink. The token is from the period 1880 to early 1882. It will be remembered John H. Behan tended bar in the Grand Hotel when he first arrived in Tombstone. © Kevin Mulkins, 2012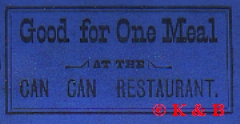 Another example of a rare paper meal token given away by by the Can Can Restaurant located on Allen St. in early Tombstone. This paper token is from circa 1883 and was printed by the Epitaph job office. It was found in the Epitaph printer's book and is believed to be unique. © Kevin Mulkins, 2012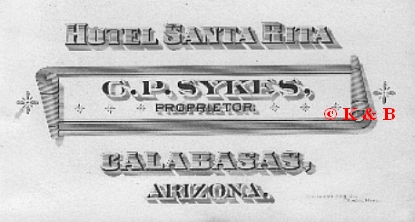 Pictured is a rare (I have never seen another) business card of C.P. Sykes, proprietor of the Hotel Santa Rita in Calabasas, Arizona. Much misinformation exists regarding this Arizona territorial town. Controversy has always surrounded it to the extent, by some, that it never really existed. This business card dates to 1878. It is a companion to the letterhead listed on the Documents, Billheads & Letterheads page of this website. The town of Calabazas/Calabasas existed by the Santa Cruz River in what is now Santa Cruz County, Arizona. It was developed in anticipation of the railroad coming to it. The railroad never came and the town was deserted and has vanished. © Kevin Mulkins, 2012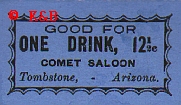 Because they were cheaper to produce, paper tokens were distributed by businesses in Tombstone in lieu of the brass tokens we are most familiar with. Tombstone paper tokens are extremely rare, many of them being unique. This original 1883 Comet Saloon paper token is no exception. Interestingly, the Comet Saloon did issue brass tokens also. This one of a kind paper token comes from the Epitaph printers book, described in the paragraph below. © Kevin Mulkins, 2012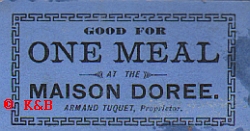 This rare original 1883 paper token is from the renowned Maison Doree restauarant located on the north side of Allen Street beside the Cosmopolitan Hotel in Tombstone. A unique item, this token comes from the Epitaph printer's book, where examples of completed jobs were kept. This was done so if an additional reorder was required, the printer had an example to reference. © Kevin Mulkins, 2012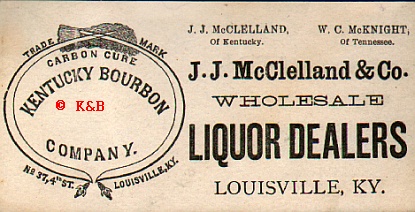 J.J. McClelland was a liquor salesman who came to Tombstone, A.T. in the early 1880s. Pictured is the business card he brought with him. McClelland hailed from Kentucky and was a ex-confederate soldier. He became a influential businessman in Tombstone and died there in 1913. He is buried north of town near his Granite Wells ranch. © Kevin Mulkins, 2012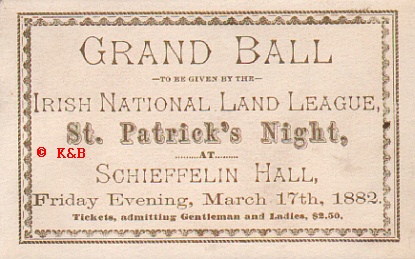 An interesting advertising card or ticket to the 1882 St. Patrick's Day evening Ball at Schieffelin Hall in Tombstone, A.T. A sizable sum of $2.50 was required for admittance. No doubt this was a deterent to keep intoxicated trouble makers from attending. The following night, on March 18, 1882, a play named Stolen Kisses would be performed at this venue. Morgan Earp would attend the play and afterward stop by Campbell & Hatche's Saloon for his last game of pool. © Kevin Mulkins, 2012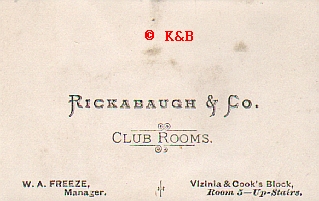 This rare Tombstone gambler's business card dates from 1880-1881 and belonged to Lou Rickabaugh, a well known circuit gambler. He was a friend and perhaps partner of Wyatt Earp in some of the gambling enterprises in Tombstone. Many professional gamblers traveled from mining boom town to mining boom town taking advantage of the uninformed miners in the gambling halls. Tombstone was no exception, in fact, some say there existed a sort of "gambling war" among the professional gamblers. © Kevin Mulkins, 2012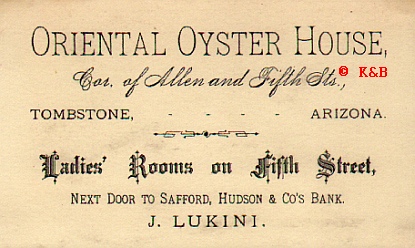 This extraordinary and rare business card comes from the Oriental Oyster House, located on Fifth and Allen Streets in Tombstone. Notice the interesting statement on the card "Ladies' Rooms on Fifth Street." It further states "Next door to Safford, Hudson & Co's Bank, dating this to the 1881-1882 time period. We speculate that these rooms were not for the fine lady travelers arriving in Tombstone but for the ladies of the night! © Kevin Mulkins, 2012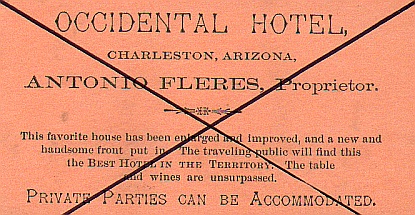 This original business card is from the Occidental Hotel in Charleston, A.T. The hotel's proprietor, Antonio Fleres, proclaims on this business card that his hotel is the best in the territory. Not much is known about Charleston's Occidental Hotel. It is briefly mentioned in the new book Charleston & Millville, A.T. Hell on the San Pedro by John D. Rose on pages 77 and 223. ©Kevin Mulkins, 2012.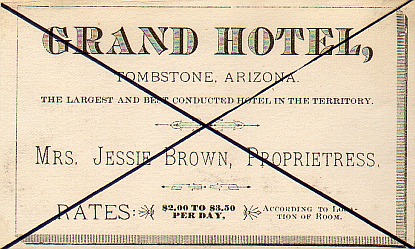 Pictured is a rare 1881 business card from the magnificent Grand Hotel on Allen Street in Tombstone. Notice that just about every hotel business card from this time period advertised it's hotel as the best in the territory. The Grand Hotel was an exceptional establishment. It opened with much fanfare on September 9, 1880 and burned to the ground on May 26, 1882 - never to be rebuilt. ©Kevin Mulkins, 2012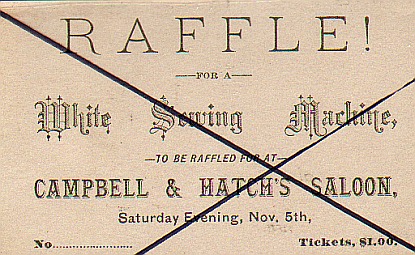 This exceptionally rare 1881 business card/raffle ticket is from Campbell & Hatches Saloon located on Allen St. in Tombstone. Interesting that a saloon in notorious Tombstone would be raffling off an expensive sewing machine. Perhaps this was a good business ploy to get more men into the saloon so they would purchase a raffle ticket for their wives! Morgan Earp was assassinated in this saloon while playing pool on March 18, 1882. ©Kevin Mulkins, 2012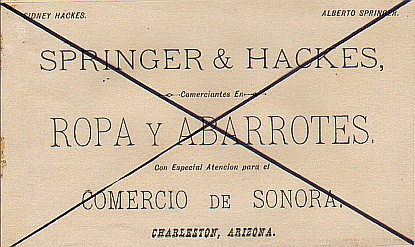 This business card from Springer & Hackes, a merchantile store in Charleston, A.T., attests to the business acumen of these two men. More so, this card shows without a doubt, there was substantial trade with pack trains and merchants from Mexico in Charleston, A.T. This rare and interesting business card is in Spanish specifically for traders from south of the border. ©Kevin Mulkins, 2012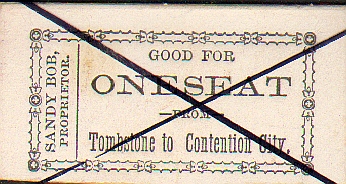 This is an exceptionally rare Tombstone item. It is a Sandy Bob stage ticket issued to paying travelers for passage from Tombstone to Contention where the nearest railroad line was. This is one of only two known tickets to exist. After Morgan Earp was assassinated on March 18, 1882, his body was taken to Contention by Wyatt Earp and others and put on the train to the Earp parents home in Colton, California. ©Kevin Mulkins, 2012
C
ontact us with any questions at:
kevbevmulkins@msn.com
or call us at
520-603-9325
.
---
We hope you enjoyed your visit here -- please return soon.